Mon - Fri:
08:00 AM - 06:00 PM
4040 Auburn Way N. Ste 2
Auburn, WA 98002
(253) 329-2266
google-site-verification=-z2szgutbvku6IadSVrrb7rsWCaYQdh3RJvf0NtDOIU

Automotive Industrial Paint Supply
Family owned since 2005
We cater to the hard working men and women of the "Automotive Refinish Industry". Our technical background is second to none with products and paint systems that address the most important parts of our industry.
Quality, Price and Service.
The partnerships we have with our vendors Helps "AI" offer you, our customer, significant savings on Quality Paint, Clearcoats, Primers and Body Shop related products.
Our warehouse and store is centrally located in Auburn WA, We pride ourselves in prompt service from Everett to Tacoma.
Call us or come in today!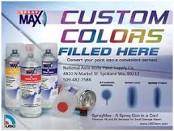 Paint mixed into spray cans.
We are constantly looking for ways to improve our services to reach your satisfaction. We would appreciate any thoughts or advice you may have regarding our services. Please feel free to leave us a message via the web site by clicking "Contact Us".